Commuting to work daily can be a frustrating experience for many individuals. From navigating through traffic congestion to contending with exorbitant parking fees, it can be a major hassle. Fortunately, the federal government has rolled out an impressive solution in the form of the Transit Subsidy Program. This program aims to provide much-needed financial relief and promote sustainability by offering a range of mass transit benefits.
In this article, we will explore this program, shedding light on crucial details such as eligibility criteria, subsidy amounts, and a wide range of transportation alternatives available to beneficiaries.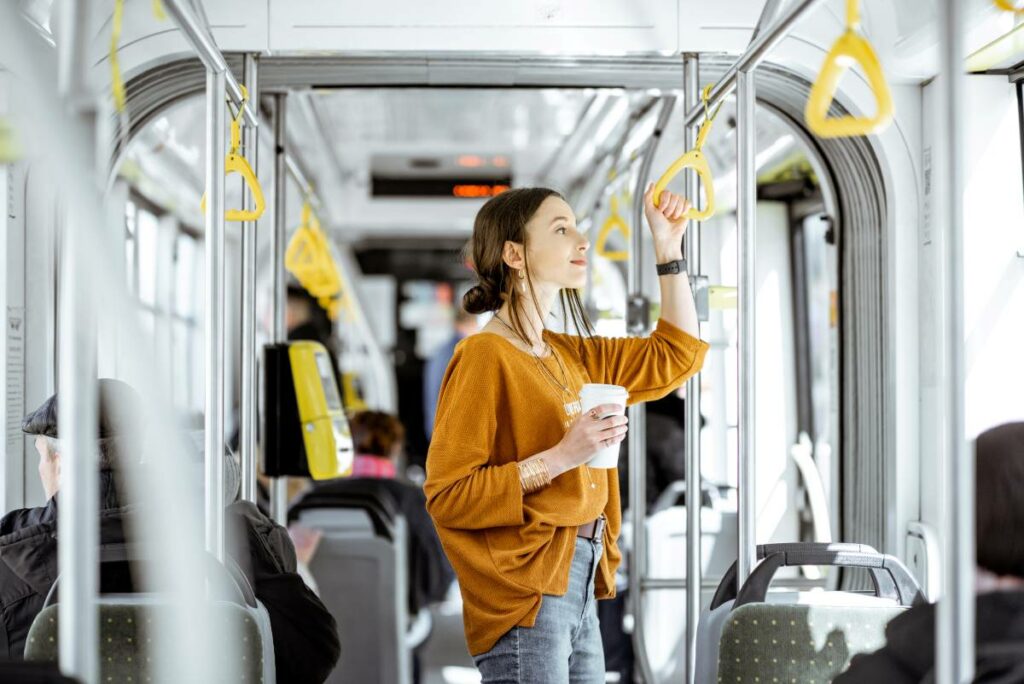 What Is the Transit Subsidy Program?
The Transit Subsidy Program is a federal government incentive designed to encourage federal employees to use mass transit to commute to and from work. The program, powered by the US Department of Transportation, aims to reduce the reliance on sing-occupancy vehicles, promoting environmental sustainability while easing congestion on the road. 
Federal employees, through the program, will receive a monthly, tax-free benefit that will be used for their regular commute to work using mass transit such as light rail, bus, ferry, subway, or vanpool.
How Does It Work?
You will receive a transit pass if you are an eligible recipient and incur transportation expenses to and from work. It could be a TRANServe Debit Card, Metrochek voucher, SmartTrip®, or a monthly/annual pass to cover your expenses.
The maximum amount you can receive monthly is $260, and they are funded by the federal bureaus or departments using their appropriated funds.
Scope of the Program
The scope of the Transit Subsidy Program encompasses various aspects related to federal employee commuting and public transportation. They include: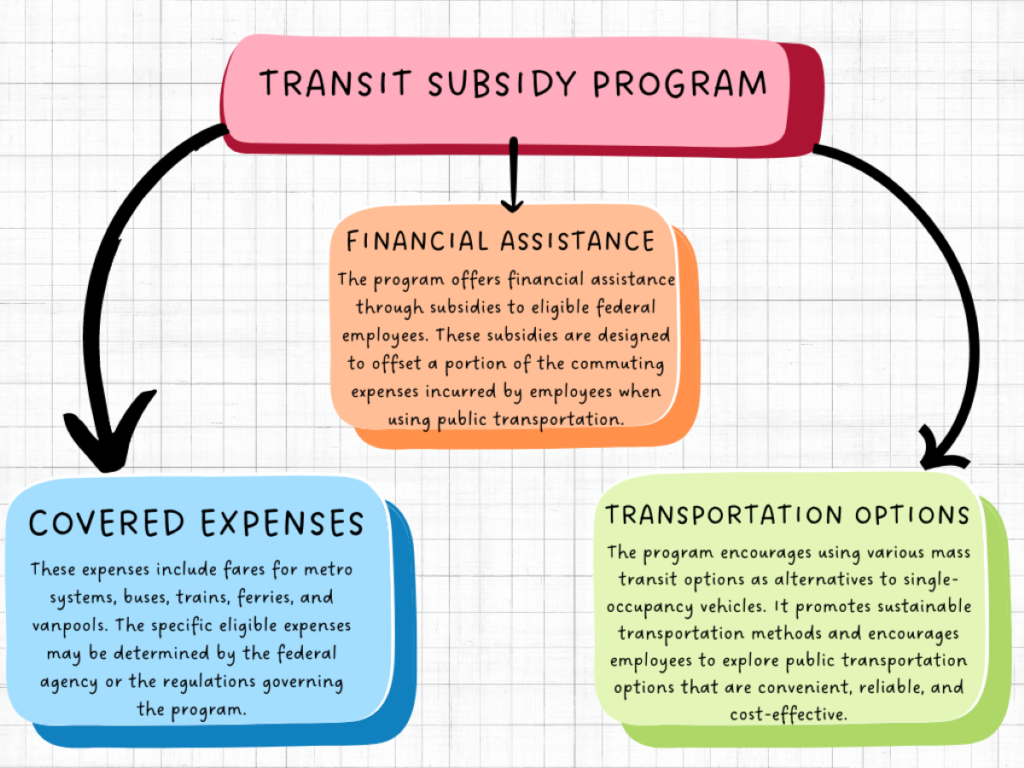 Who Is Eligible?
You are eligible for this federal employee transit subsidy 2023 if you meet the following requirements:
You must be a federal government employee, including part-time and full-time
The distance from your house to work must require a longer commute
You must rely on public transportation as a primary mode of transportation to and from work. This includes metro systems, ferries, buses, trains, and vanpools.
How To Apply
If you meet the eligibility criteria, all you need to do is:
You must also take the online Transit Benefit Integrity Training Course and provide the certification of completion to your bureau or office transit coordinator. 
Documentation Needed
You will provide the following document during your application process:
Proof of employment in a federal bureau, including full name, identification number, contact information, and other details.
Commuting distance verification, such as a map showing the distance from your residence to your work
Proof of transportation expenses, such as fare receipts or monthly passes
How Long Does It Take To Be Processed?
The processing time for the federal government mass transit benefits program may vary depending on several factors. This includes the volume of applications received and administrative processes. It is advisable to consult with your coordinator for an estimated processing time.
How Will You Receive This Benefit?
The method for receiving the public transportation subsidy program benefit may vary depending on your agency. However, these are common methods: 
Direct deposit
Preloaded transit cards
Reimbursement
Employer-issued vouchers
What If You Misplace Your Transit Cards?
Your bureau can replace your transit card without losing its fare value. Call the Washington Metropolitan Area Transit Authority at (888) 762-7874 if your card is missing. 
You will provide the missing card number and pay a $5 replacement fee from your personal money.
What If Your Application Is Denied?
You will be notified if your application to claim the federal employee transit subsidy 2023 is denied. The reasons for the denial will be highlighted. You can seek clarification, provide additional information, and reapply for the benefit subsequently from your transit coordinator.
Embrace Sustainable Transportation
The Transit Subsidy Program is a federal incentive to provide financial relief and sustainable commuting options. By providing eligible federal employees with subsidies to offset commuting expenses, the program eases the financial burden and encourages the adoption of greener transportation methods.
Choosing public transportation can contribute to cleaner air, reduced traffic congestion, and enhanced financial well-being.