Over time, retirement has evolved, shifting away from the conventional idea of settling down in your own hometown. As a result, many retirees in the US are now seeking to embrace a different culture and lifestyle by retiring abroad.
This guide explores what you should consider if you would like to retire abroad. Read about the advantages and disadvantages, popular overseas retirement destinations for US citizens, your rights and obligations, and other key information.
Whether you dream of sipping outdoors in a European café or basking in the African tropical sun, this article is what you need.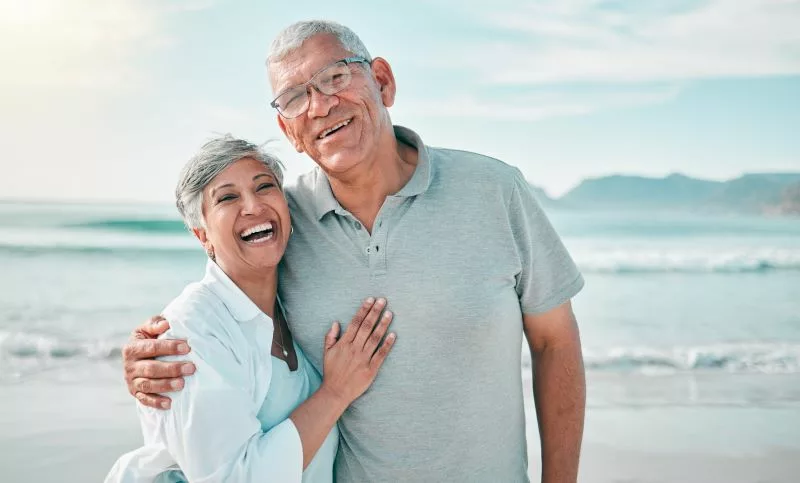 What Is Retirement?
Retirement is that stage in your life where you're no longer required to work or reduce your involvement in gainful employment. It usually marks the end of your professional career or regular employment, allowing you to transition into earning from saved investments, retirement pensions, and government social security benefits to cover your living expenses.
Remember, retirement can take several forms. You may retire fully and dedicate your time to your hobbies. You may also opt for partial retirement, where you can continue to work part-time to supplement your retirement income.
What You Need To Consider Before You Retire Abroad
Planning to retire abroad is an exciting endeavor, but it requires careful consideration and preparation to ensure a smooth transition to your new life. You need to consider the following:
1. Financial planning
Determine if your retirement savings and income sources will be sufficient to support your desired lifestyle in a new country. The best way to do that is to consult with a financial advisor who specializes in retirement planning to help you navigate investment strategies and tax implications.
You should also make sure any legal documents, such as your will, power of attorney, and healthcare documents are up-to-date.
2. Healthcare
Investigate the healthcare system in your chosen country. Ensure it meets your needs, and consider purchasing international health insurance to cover medical expenses.
3. Language and culture
Would you be able to get by with just English? Learn about the local language and culture. Familiarity with the language will help with day-to-day interactions, while cultural understanding will help you integrate into the community.
4. Property and housing
Where are you planning to stay? You need to decide whether you will buy or rent property in your new country or destination.
5. Quality of life
You should consider how safe the chosen destination is. Also, make sure you check the availability and cost of your favorite hobbies, sports, and cultural interests.
What Are the Advantages and Disadvantages of Retiring Abroad?
It's essential to thoroughly evaluate your preferences, financial situation, and goals before retiring abroad. With the right planning, retiring overseas can provide a wide range of advantages and be a fulfilling experience. However, it also comes with its share of challenges:
Advantages
Disadvantages
• Cost of living. Several countries in Asia, Latin America, Africa, and parts of Europe offer lower living expenses than the US or other first-world countries. This means your savings will be put to great use, allowing you to maintain a comfortable lifestyle.
• Better quality of life. Some countries in Asia and Europe offer a higher quality of life regarding safety and healthcare.
• Adventure and exploration. Living in a foreign country can be an exciting adventure. You'll have the opportunity to explore new cultures, cuisines, and experiences, which can add richness and diversity to your retirement years.
• Cultural enrichment. When you retire abroad, you will get to immerse yourself in a new culture, which can be a rewarding experience.
• Simplified lifestyle. Retiring abroad often encourages a simpler, more minimalist lifestyle. You may find that you can live with fewer possessions and less stress, focusing on what truly matters to you.
• Natural beauty. Many retirement destinations boast stunning natural landscapes, from pristine beaches to lush mountains and serene countryside. These environments can provide tranquility and opportunities for outdoor activities.
• Cultural adjustment. Adapting to a new culture and way of life can be challenging. Language barriers, different customs, and social norms may lead to feelings of isolation.
• Homesickness. Being far away from family and friends can result in homesickness, especially during significant life events or holidays.
• Legal and bureaucratic challenges. Dealing with legal and administrative matters in a foreign country can be time-consuming and complicated.
• Financial risks. Fluctuations in exchange rates and economic stability in your host country can impact your finances and, in some cases, your purchasing power.
• Social connections. Building a new social network in a foreign country can be challenging, particularly if you don't speak the local language fluently.
• Security concerns. Safety and security conditions can vary greatly from one country to another. Researching the safety of your chosen destination is crucial
Popular Abroad Destinations for US Retirees to Relocate
Are you wondering how to retire abroad on a budget? These countries offer a blend of affordability, better climates, and cultural richness: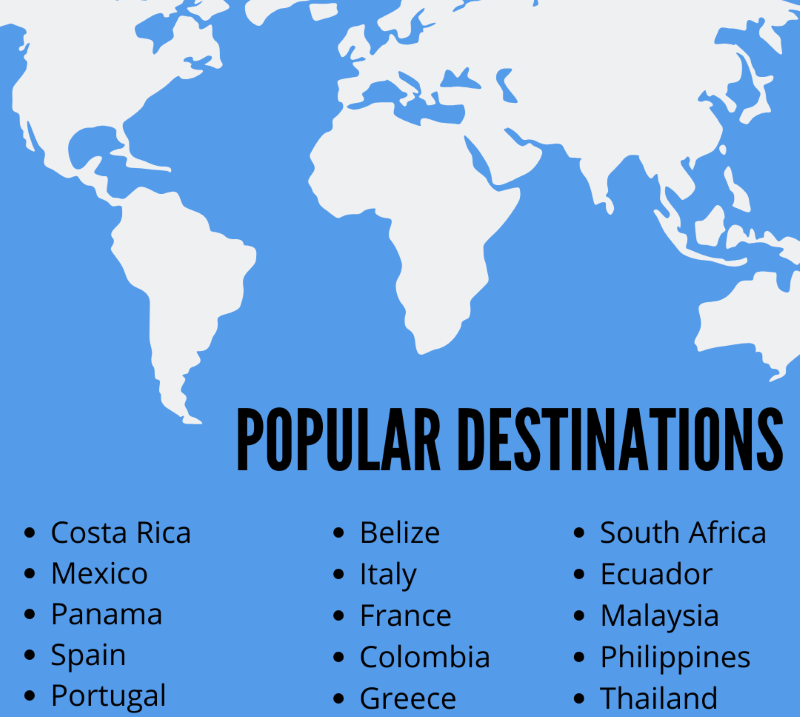 Visa Requirements
Residency and immigration laws differ from country to country. Reviewing the US Department of State's country information is vital to see if you'd need a visa to visit and reside in your preferred country. You can also review the information on dual nationality if this concerns you.
Eligibility Requirements
Every country has its own residency eligibility requirements. Some of the requirements may involve:
Showing substantial savings
Purchasing real estate in their country
Annual passive income from your investments
To avoid any issues, you must properly review the residency requirements of your desired destination. 
How To Apply
Simply visit the embassy of your retirement destination and apply for a visa or residency. You can find a comprehensive list of all US foreign embassies and consulates here.
Documentation Needed
Although the documentation needed may vary from country to country, in general, you will need to provide the following documents when applying for residency in your chosen destination:
Visa application form from the embassy or consulate
Passport-sized photos
Proof of income, including bank statements, retirement income statements, or sponsorship letter
Medical reports
Birth and educational certificates
Proof of payment of the application fee, which varies from one consulate to another
You should consider seeking assistance from immigration lawyers or consultants who specialize in the immigration processes of your chosen destination. They can guide you and ensure you have all the necessary documents for a successful application.
What Happens Next?
Immigration authorities will review your application to ensure all required documents are submitted and all criteria are met. This review may take several weeks to months, depending on the country and the complexity of your case.
Authorities may conduct background checks, including criminal and security checks, to verify your eligibility for residency. If authorities need more information or clarification about your application, they may request additional documents or details.
Depending on the country, you may be able to check the status of your application online or by contacting the relevant immigration office. Once your application is approved, you will receive a visa or residency permit through the embassy or consulate in the US or at a designated immigration office in the host country.
Upon arrival in the host country, you may be required to report to local immigration or government authorities to finalize your residency status.
What Rights Do You Have When You Retire Abroad?
Some of the rights and obligations accorded to you include the following:
Non-discrimination
Access to legal representation
Freedom of speech and expression
Right to education and healthcare
Freedom of religion
Real estate ownership
Access to social services
It's important to note that the specific rights and protections available to immigrants can vary significantly from one country to another. Sometimes, you may not be permitted to vote in their elections, for example. 
Do You Have to Pay Taxes in the US?
According to the US Department of State, you must file your with the IRS annually. Even if you move your assets to that country, you are tasked to pay your federal taxes. For more information about this, visit the IRS's tax information for residents and US citizens living abroad.  
Do You Have to Pay Taxes in the New Country?
When you retire abroad, you are mandated to fulfill any tax obligations to that country of residence. 
Are you Entitled to Social Security Benefits?
You are entitled to receive Social Security benefits while retiring in another country. If you are eligible for Social Security benefits, look up your desired country on the SSA Payment Abroad Screening Tool to ensure you can receive your payments. 
Embrace a New Horizon
Embarking on the journey of retirement abroad is a significant and transformative decision. It offers many benefits for you, including cost savings, improved quality of life, diverse cultural experiences, and nature's beauty.
Exploring all the eligibility requirements, visa arrangements, and other information that might help you to travel and settle into your preferred destination is essential. 
Whether you seek a tranquil beachside retreat, an active urban lifestyle, or exploring new cultures, the world offers many possibilities for your retirement years. Visit the US Department of State website for more information about retirement abroad.