Are you a veteran or an active-duty service member with dreams of homeownership? The VA Guaranteed Home Loan program offers a valuable opportunity to make that dream a reality. Designed to help make homeownership more accessible, this program provides favorable terms and conditions for obtaining a mortgage.
In this article, we will explore key aspects of the program, including eligibility criteria, income requirements, and credit score considerations. Additionally, we will guide you through the step-by-step application process, ensuring you have the necessary information to successfully navigate this program.
Whether you're a veteran or an active-duty service member considering homeownership, here is what you need to know to navigate the VA Guaranteed Home Loan program successfully.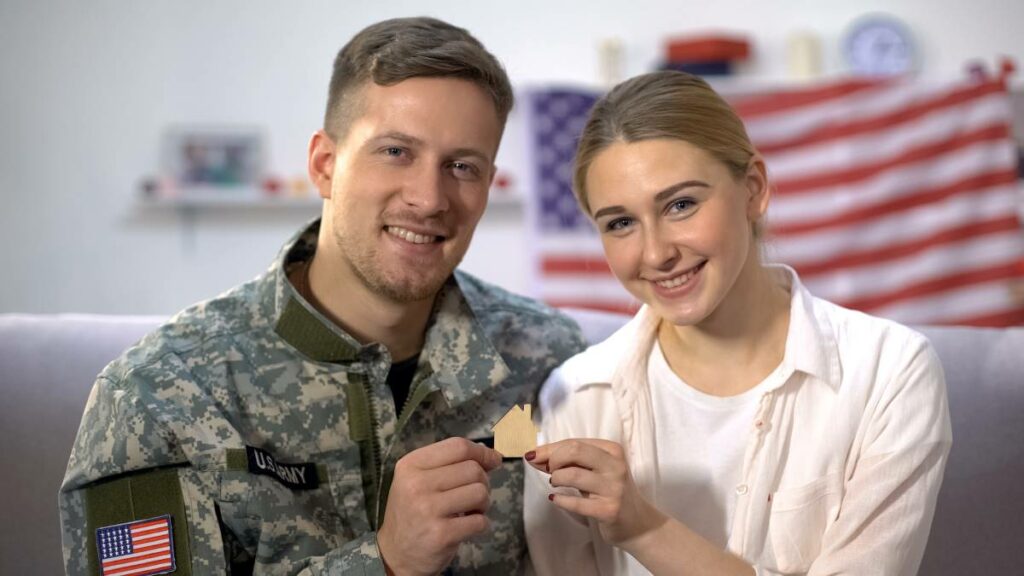 What Is the VA Guaranteed Home Loan?
The VA Guaranteed Home Loan is a specialized mortgage program created to provide accessible and affordable home financing options to eligible veterans, active-duty service members, and surviving spouses. This valuable benefit, administered by the Department of Veterans Affairs (VA), aims to honor and support those who have selflessly served their country by offering favorable terms and conditions for homeownership.
With the VA Guaranteed Home Loan, qualified individuals can embark on their homeownership journey with confidence, knowing that they have a dedicated program designed to meet their unique needs.
How Does It Work?
Under this program, private lenders, such as banks and mortgage companies, provide the loans, while the VA guarantees a portion of the loan, thereby reducing the risk for lenders.
This guarantee encourages lenders to offer more competitive interest rates, and no down payment requirements (in most cases).
These benefits make VA home loans an attractive option for eligible individuals who may not have access to traditional financing options.
What Can You Use the Loan For?
With the loan, you can carry out the following:
Repair, alter, or improve your home
Refinance an existing home loan
Build a home
Buy a home or residential condominium
Buy a manufactured home with or without a lot
Install a solar heating or cooling system or other weatherization improvements
Refinance a manufactured home loan to acquire a lot
Refinance an existing VA loan to reduce the interest rate
Who Is Eligible?
Persons eligible for the VA Guaranteed Home Loan include the following:
Veterans
Reserve and National Guard members that have been called to active duty
Active duty Servicemembers
Current Reserve and Guard members after 6 years of creditable service
Surviving spouses of veterans
Use the VA Guaranteed Loan eligibility checker to see if you qualify. 
How To Apply for the VA Guaranteed Home Loan
Applying for the VA Guaranteed Home Loan is a straightforward process that begins with selecting a lender from the list of VA-approved home loan lenders.
To initiate the application, you will need to obtain a VA Home Loan Certificate of Eligibility (COE), which serves as proof of your eligibility for a VA home loan. Your VA Home Loan lender can assist you on this matter. You can also obtain the COE online through eBenefits or by filling out a request form and mailing it to the address of your Regional Loan Center. Once you have your COE, your lender will prepare the necessary loan documents for your review and signature.
For more detailed information about the VA Guaranteed Home Loan program, we recommend visiting the Home Loans website. If you have specific inquiries, don't hesitate to contact a Regional Loan Center near you for personalized assistance.
Documentation Needed
When applying for the VA Guaranteed Home Loan, you will need to gather the following: 
Certificate of Eligibility (COE)
Proof of income, including W-2 form and tax returns for the past 2 years
Employment verification
Credit information, such as your credit history and score
It's essential to consult with your VA home loan lender directly to understand their specific documentation requirements and any additional forms they may request.
Credit Requirements
Unlike conventional mortgages, the VA Guaranteed Home Loan program does not have a specific minimum credit score requirement set by the VA. Each lender may have their own guidelines and overlays when evaluating credit scores for VA loans, so it's crucial to check with them directly.
While there is no definitive "ideal" credit score for VA home loan eligibility, a higher credit score generally improves your chances of securing more favorable loan terms. In general, a credit score of 620 or above is often considered a threshold by many lenders. However, it's important to remember that lenders may review credit scores on a case-by-case basis, and some may be willing to consider applicants with lower credit scores.
To determine the specific credit requirements and guidelines for VA loans, it is recommended to contact potential lenders and discuss their individual criteria. They will provide insights into the credit scores they typically consider and any specific requirements or considerations they may have.
What Happens Next?
After submitting your application for a VA Guaranteed Home Loan, the lender enters the loan processing stage, where they verify the information provided in your application and review the supporting documents.
As part of the process, a VA-approved appraiser is assigned by the lender to evaluate the property's value and ensure it meets the minimum property requirements set by the VA. This appraisal helps determine the maximum loan amount that the VA can guarantee.
Additionally, the lender assesses your debt-to-income (DTI) ratio, which compares your monthly debts, including the projected mortgage payment, to your gross monthly income. Although the VA does not enforce a strict maximum DTI ratio, most lenders prefer a DTI ratio of 41% or lower.
Upon approval of your loan application, the lender prepares the necessary documents, such as the loan estimate, closing disclosure, and note. If you agree with the terms, you will receive these documents for review and signing. Once the process is completed, the loan funds will be disbursed to your designated bank account, allowing you to put them to good use towards your home purchase or refinance.
How Long Does It Take To Receive This Loan?
The timeline for receiving a VA Guaranteed Home Loan can vary depending on several factors, including the efficiency of the lender's processing, the complexity of the application, and the overall demand in the housing market. Generally, it takes several days to weeks to get approved.
What If Your Application Is Denied?
If your application for a VA Guaranteed Home Loan is denied, contact the lender who denied your application and request an explanation for the decision. You can also obtain a copy of your credit report from one or more major credit bureaus and carefully review it for errors or inaccuracies. 
If you find any, dispute them with the credit bureau(s) to have them corrected. You can consider other VA-approved lenders who may have different eligibility requirements.
Homeownership Made Possible
The VA Guaranteed Home Loan program opens doors to homeownership, offering valuable opportunities for eligible veterans, active-duty service members, and surviving spouses. Beyond the initial purchase, this program can also be utilized for loan refinancing, home renovations, repairs, and even installing solar panels.
By understanding the credit requirements and taking proactive steps to improve your creditworthiness, you can enhance your chances of obtaining a VA home loan and achieve your homeownership goals. Embrace the possibilities that this program brings and embark on a path towards long-term stability and the pride of owning your own home.
Visit our website for other benefits you may be eligible for.