Parking can be a challenge for anyone, particularly for those with disabilities requiring accessible spaces. However, there is a solution that can make your life easier: disabled parking cards. This article explores what a disabled parking card is, who is eligible for them, and how the application process works. Find out all about the documentation needed to claim your parking permit for disabled persons to start accessing designated parking spaces easily.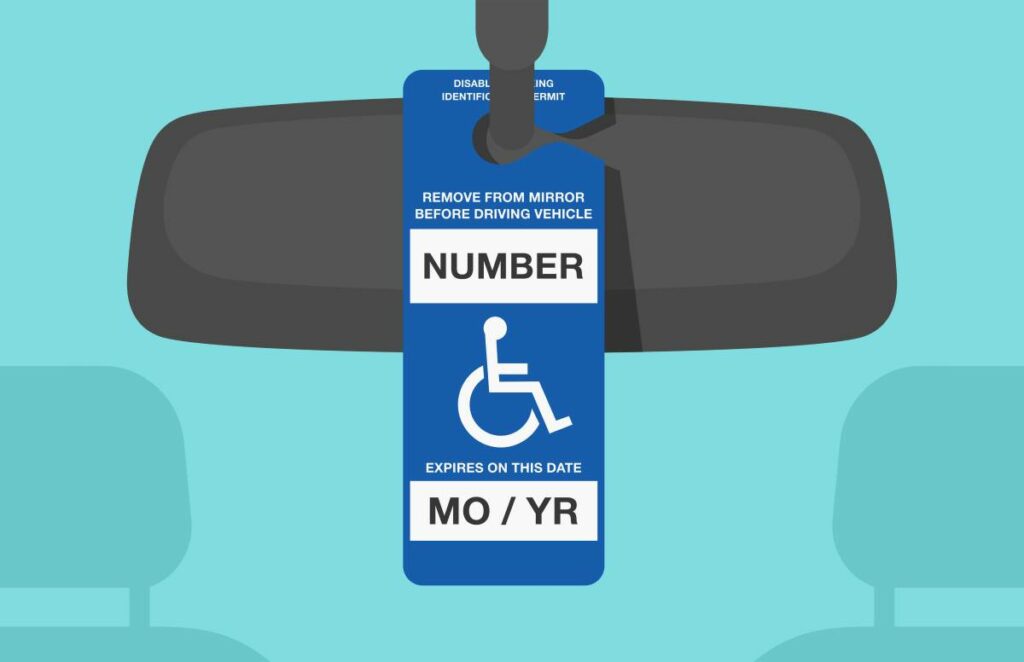 What Is a Disabled Parking Card?
Disabled parking cards, also known as parking permits or passes, are special documents issued to individuals with disabilities which enable them to get easier access to parking.
State-level governmental agencies usually provide these cards. They include the Department of Transportation (DOT) or the Department of Motor Vehicles (DMV).
Disabled parking cards typically come in the form of a placard or a license plate.
What Is the difference between a Disabled Parking Placard and a Disabled License Plate?
Disabled parking placards are hangable permits that can be displayed on the rearview mirror of a vehicle. They are typically made of a durable material and have a special design that indicates the vehicle is authorized to park in designated disabled parking spaces. Placards are portable and can be easily transferred between vehicles when needed.
Disabled parking license plates are special licenses issued to vehicles owned or primarily used by individuals with disabilities. These license plates replace the standard license plates on the vehicle and display a specific symbol or code that identifies the vehicle as eligible for disabled parking privileges. License plates are permanently affixed to the vehicle and are not transferable between vehicles
Which One Should I Get?
The type of handicapped parking permit you can apply for depends on your specific needs, personal preferences, and the regulations of your state's issuing agency. Some individuals may opt for a placard for its portability, while others may choose a license plate for its permanent attachment to their vehicle.
The Main Benefits of Holding a Disabled Parking Card
Disabled parking passes offer several benefits for individuals with disabilities. They include the following:
1. Reserved Parking Spaces
One of the primary benefits of disabled parking cards is access to designated parking spaces closer to entrances. These spaces are typically wider and provide more room for wheelchair ramps or mobility devices, allowing disabled individuals to navigate easily and safely.
2. Extended Parking Times
This accommodation acknowledges that individuals with disabilities may require more time to reach their destinations, complete tasks, or attend appointments due to mobility challenges.
3. Accessibility and Convenience
By having a disabled parking card, individuals with disabilities gain greater access to public facilities, businesses, and services. They can park in designated areas better suited to their needs, eliminating the need to search for accessible parking spaces and reducing the distance they must travel to reach their desired destinations.
4. Reduced Parking Fees
In certain areas, disabled parking passes may exempt holders from paying parking fees or provide discounts on parking charges. This financial benefit can help alleviate the burden on disabled individuals and make parking more affordable
It's important to note that benefits may vary depending on local regulations and the type of disabled parking pass issued.
Who Is Eligible?
The eligibility criteria for parking permits for disabled persons varies as it is determined by each state. However, the following are common factors that determine eligibility:
Mobility impairment, which includes difficulty walking long distances and the need to use mobility aids (e.g., canes,s crutches, walkers) or a wheelchair
Various medical conditions, including cardiovascular disease, respiratory disorders, severe arthritis, neurological disorders, visual impairments or any other condition that substantially impairs their ability to walk
Temporary disabilities, such as those experienced when recovering from surgery or injuries
Visual impairments or blindness
To understand the specific eligibility requirements and documentation needed in your area, contact your local DMV or DOT office.
How To Apply for a Disabled Parking Card
To apply for vehicle plates for disabled persons, you must visit the nearest DMV within your vicinity. Simply Google "DMV offices near me" to get personalized search results. Remember to bring proof of your disability to the venue. This can be a statement from your healthcare provider or a completed Application for a Parking Permit or License Plates, for Persons with Severe Disabilities (MV-664.1). You will need to pay $28.75 as the application fee.
For more information, call 1-202-366-4000, 1-855-368-4200, 1-800-877-8339 (TTY), or email dot.comments@dot.gov.
Documentation Needed
You will need to provide the following documents during the application process for the parking placards:
The complete and signed application form collected from the DMV office or MV-664.1
Medical certification or documentation from a healthcare professional validating your eligibility for a disabled parking pass
Proof of identity, such as a driver's license, state ID card, or passport
The vehicle registration information, including the VIN, model, make, and license plate number
Please note that the specific documentation requirements may differ between states.
What Happens Next?
The agency responsible for issuing disabled parking cards, such as the DMV or DOT, will review your application and supporting documents. They may conduct a verification process to ensure the accuracy and validity of the information provided in your application. This may involve contacting your healthcare professional for further clarification or requesting additional documentation.
If your application is approved, you will be issued a handicap parking permit. The type of card, whether it's a placard or a license plate, will depend on the regulations of your state and the information you provided in your application.
Disabled parking cards typically have an expiration date, and you will need to renew them periodically according to your state's requirements. The renewal process may involve submitting updated documentation or completing a renewal application form.
How Long Does It Take to Be Processed?
The processing time for applications can vary between states. The agency may take several weeks to review and process your application. During this time, it is important to be patient and allow sufficient time for the agency to complete its assessment.
What If Your Application Gets Denied?
You will be notified by call, post, or email if your application to claim the vehicle plates for disabled persons is denied. Carefully read the denial notice or communication provided by the agency. It should specify the reasons for the denial.
If the denial notice needs clarification or you have questions regarding the decision, contact the agency that reviewed your application. Inquire about the specific reasons for the denial and ask for any additional information or clarification they can provide.
If you believe that your application was unfairly denied or if you have additional evidence or information to support your eligibility, you may have the option to appeal the decision. Follow the instructions in the denial notice or contact the agency to inquire about the appeal process.
Inclusive Parking Made Possible
Disabled parking cards are vital in enhancing accessibility and convenience for individuals with disabilities in the United States. The placard can be hung on the rearview mirror of a vehicle while the license plate is permanently affixed to the vehicle.
These cards provide a range of benefits, including reserved parking spaces, extended parking times, and reduced fees, helping to alleviate the challenges faced by disabled individuals when it comes to finding suitable parking.
By promoting accessible parking and recognizing the unique needs of disabled individuals, disabled parking cards create a more inclusive society where everyone can enjoy equal opportunities and participation.