US Military Veterans are some of the most disenfranchised people in the country. They give their all, going on different tours and defending the peace and stability of the nation outside our shores. But, once they get back home, many veterans struggle to get back to their everyday lives and feel forgotten.
Wars are fought, lost, and won, but battle scars remain. Some people develop disabilities during wars or when they return home. Thankfully, the VA Disability benefits is a scheme designed to support veterans who have some form of disability or illness and find it difficult to cover their expenses or carry out everyday activities.
This article provides a complete breakdown of veterans' disability benefits and how you can claim them.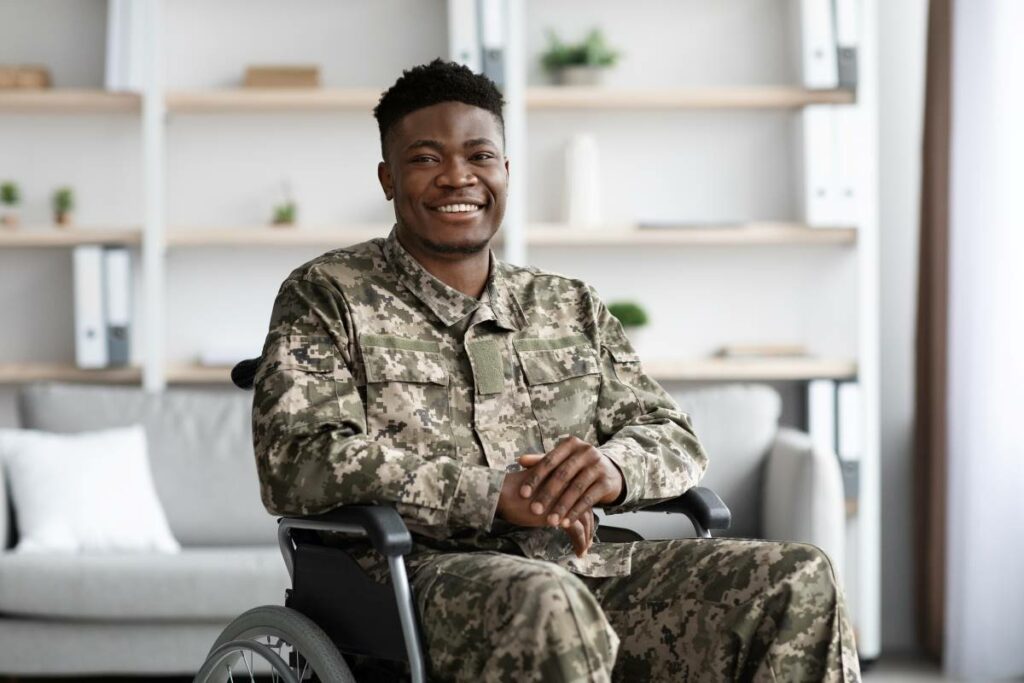 What are VA Disability Benefits?
VA disability compensation is a tax-free benefit program that offers financial support to veterans who get sick or injured while serving in the military. It is also provided to veterans who, due to their service, made an existing medical condition worse.
There are a number of benefits you can be eligible for as part of this program. Some of the most well-known ones include:
VA home loan
VA education benefits
VA pension
Dental care
Clothing allowance
Readjustment counseling
Educational and career counseling
Federal hiring preference
Exchange privileges
VA headstone or marker
Commissary privileges
Presidential Memorial Certificate
VA disability compensation
What Conditions Are Covered?
The following medical conditions are covered by VA disability compensation:
Severe hearing loss
Ulcers
Scar tissue
Cancers caused by toxic contamination
Breathing problems
Chronic back pain
PTSD
Depression
Anxiety
You can use this eligibility checker to know if you can claim the veterans' disability benefits.
Who Is Eligible for VA Disability Benefits?
You can file a VA disability claim if you meet any of the following requirements:
You have a current illness or injury that affects your mind or body.
You served on active duty, active duty for training, or inactive duty training.
You got sick or injured while serving in the military.
You had an illness before serving in the army and serving made it worse.
You had a disability during active-duty service that didn't show up until after you finished your service.
You suffer from a chronic illness that appeared within one year after military discharge.
You suffer from a condition caused by your time spent as a prisoner of war (POW).
If eligible, you can apply for other benefits such as Medicare, Social Security Disability Insurance (SSDI), or Temporary Assistance for Needy Families (TANF).
How to Apply for VA Disability Benefits
To file a claim for VA disability benefits, you must use VA Form 21-526EZ, 'Application for Disability Compensation and Related Compensation Benefits.' You can complete the application online. You can also print the form, complete it and mail it to the following address:
Department of Veterans Affairs
Claims Intake Center
PO Box 4444
Janesville, WI 53547-4444
Alternatively, you can bring your application to the nearest local VA regional office in person. For more detailed information, you can either:
Documents Needed
The following documents are needed when filing a claim for VA disability benefits:
VA medical and hospital records that relate to your claimed illnesses or injuries.
VA records show that your illness has gotten worse.
Private medical and hospital records that relate to your claimed illnesses or injuries.
Supporting statements from friends, family members, clergy members, law enforcement personnel, and colleagues from the military service that can provide more about your claimed illnesses and injuries.
What Happens After You File A Claim?
After filing a claim either online, by mail, or in person, you don't need to do anything. It will take about 105 days for the Department of Veteran Affairs to decide.

Final Thoughts
The VA Disability Benefits Program is an essential compensation you can claim if you get injured during or after your military discharge. Some of the benefits you can enjoy are cash compensation, dental care, clothing allowance, home loan, and many more.
If you qualify, you can apply online, in person, or by mail. You'll have to submit Form 21-526EZ together with your supporting documentation. We hope that with the help of our complete guide, you can apply and become a recipient of these benefits soon.