The United States of America is known for its bustling economy, technological advancements, diverse and inclusive culture, and thriving atmosphere for education, travel, and work. It's no surprise that more than 1 million people apply for US visas to migrate to the US yearly.
A visa is essential for people seeking to study, work, and visit the US. With different types of visas available for foreigners, navigating the entire process of obtaining one can be mentally tasking when you don't know where to start.
This article provides an overview of US visas, including their types and eligibility criteria, to help you better understand how they work and which one you should apply for.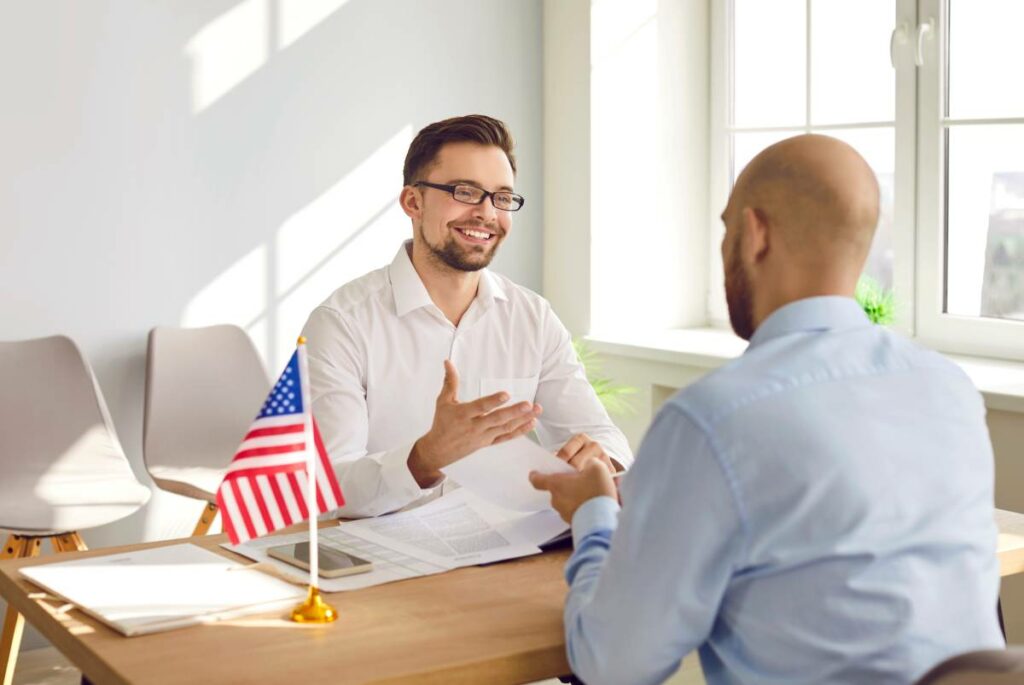 What Are Visas?
A visa is an official document allowing foreigners to legally travel and stay in the US for a specific time and purpose. It is usually stamped and attached to the international passport of the foreigner and serves as approval to enter the US.
The Bureau of Consular Affairs is tasked with issuing visas to enter the US and providing special services to US citizens abroad.
Why Do You Need a Visa?
The following are key reasons why you need a visa to travel to the US:
Immigration control. The US Department of State uses visas to regulate the entry of foreigners into the country. Visas also allow the US immigration to screen travelers and ensure that they meet travel requirements, such as financial resources, no criminal records, and valid purpose for visiting
Legal authorization. Visas also legally permit a foreigner to travel into the US. It also grants valid permission for specific purposes such as business, work, and tourism.
Diplomatic relations. Visas also promote diplomatic relations between countries based on mutual agreements.
Safety. Visas are also used to vet foreigners and ensure they do not pose a threat to the lives, properties, and the government of the US.
You can also read, '8 Benefits for Cuban-Haitian Entrants: What They Are and How To Claim Them.'
Types of Visas to Enter and Live in the US
There are different types of visas foreigners can use to enter and live in the US. They include:
B-1/B-2 Visitor Visa. These visas are meant for temporary visitors traveling to the US for business (B-1) and medical treatment (B-2). They grant foreigners short-term stays and do not permit employment in the US.
H-1B Work Visa. They enable foreigners to come and work in the US sponsored by US employers. They are commonly offered in medicine, technology, and engineering fields. Applicants would need to receive approval from the US Citizenship and Immigration Services (USCIS).
F-1 Student Visa. These visas are intended for international students pursuing full-time academic programs at US institutions. They require admission to a recognized program and they allow for part-time employment on campus.
Green cards. These permits are permanent residency visas, which means they allow applicants to live and work permanently in the US. There are several categories under this program, including family-sponsored, diversity visa (DV) lottery, and employment-based residency.
L-1 Intracompany Transferee Visa. They are for workers of multinational companies that need to be transferred to the US to work.
K-1 Fiancé Visa. They allow a fiancé of a US citizen to marry and live in the US. Approval for this visa requires proof of genuine relationships and the intention to marry within 90 days of entering the US.
Other visas. Other types of visas include O visas for individuals with extraordinary abilities, P visas for athletes and performers, and E visas for traders and investors.
Difference Between Immigrant and Non-immigrant Visas
The US visa system can be divided into two major categories: Immigrant and Non-immigrant visas. What are their differences?
Purpose of stay. Immigrant visas are meant for those looking to live and work in the US to obtain permanent residency (green card). Non-immigrant visas are intended for people looking for temporary stays such as tourism, study, medical treatment, and temporary employment.
Intention. While immigrant visas are intended for permanent residency, non-immigrant visas holders will be required to return to their home countries after their permitted stay in the US.
Citizenship. After meeting other obligations, immigrant visa holders can obtain a green card and may be eligible for US citizenship. Online Non-immigrant visa applications do not have a path to citizenship.
Eligibility. Immigrant visas are awarded based on employment offers, investment, marital relationships, and other specific categories. Non-immigrant visas are awarded based on study, business, and temporary work.
Application process. While the US visa process for obtaining an immigrant visa is complex, it is relatively straightforward for non-immigrant visas.
Who Can Apply?
You can apply for an immigrant and non-immigrant visa to the US if you meet the following requirements:
You have a valid purpose for traveling to the US
You have a clear intent to obtain an immigrant or non-immigrant visa
You have the financial capability to support your stay in the US
You do not have any criminal records, immigration violations, or security concerns, as highlighted by the USCIS
How To Apply for a US Visa
To become a visa applicant in the US visa, you need to:
Figure out the type of visa you need. You can use the US Department of State's Visa Wizard to know the visa to apply for. You can also contact your local US Embassy or Consulate for inquiries about their visa services
Collect, fill, and complete the visa application forms provided. You can also obtain the DS-160 Online Non-immigrant Visa Application Form for temporary travel to the US.
Pay the US Visa fee (typically $160) and submit the form with supporting documents
Schedule a US visa appointment with the US embassy or consulate in your country to submit the form
Documentation Needed
You will need the following documents when applying for an immigrant and non-immigrant US visa:
Valid international passport
Visa application form
Photographs
Proof of purpose of visit, such as acceptance letter, proof of family relationship, marital agreement, and others
Financial records
Educational or employment documents
Additional documents, such as birth certificates, police clearance, or medical records
It is vital to note that each US visa process requires different documentation. Thus, reviewing the requirements for each visa process and submitting appropriate documents is recommended.
What Happens Next?
After applying for an immigrant or non-immigrant visa, the embassy will schedule an appointment for a visa interview. You must be prepared to provide information and answer questions about your US visit. It's recommended to remain truthful and honest with your answers while providing accurate information.
Your visa application will undergo a review and approval process, which may take several weeks to several months, depending on the workload of the embassy.
Once your visa has been approved, you will be notified to collect your stamped passport. You can pick up your passport or have it shipped to your home.
You should make sure the information on your visa is correct and pay the visa issuance fee to USCIS before you travel to the US.
How to Check Your US Visa Status
You can check the status of your visa application online via the Consular Electronic Application Center (CEAC) and type in your case number. Alternatively, you can check the US visa interview wait times for your local embassy or consulate.
What If Your Visa Application Is Denied?
The officer at your local embassy or consulate will explain why you are ineligible for a visa to the US. The officer will also inform you if you can reapply or apply for a visa waiver – a program that enables foreigners from participating countries to travel to the US for 90 days or less without a visa.
Planning Your US Trip?
Understanding the different types of US visas and their purpose is essential for people planning to travel to the US, either for study, work, leisure, business, and otherwise. Navigating the US visa process can be complex, especially when you don't know where to start. We hope this article has covered the key aspects of US visas and obtaining one.